About Alcatel OneTouch Idol 3
Showing slide {CURRENT_SLIDE} of {TOTAL_SLIDES}
Enjoy the first reversible smartphone.

IDOL 3's premium symmetrical design is the perfect expression of its unique user experience. Use it either way up, the user interface rotates to match, to make or receive a call without worrying about which way you are holding your phone.

Feel every beat.

Two powerful front speakers offer 3D HiFi sound for a cinema-like surround experience, while JBL audio with Clari-Fi restores the true sound to compressed digital music files like MP3s, internet radio, or streaming services.

Enjoy a large, clear screen.

The super high-definition screen of the IDOL 3 makes every movie a cinematic experience. At 401ppi, the screen makes every detail sharp and clear. Technicolor Color Enhance renders your images with vibrant palettes.
eBay has provided more information about this product above and is not affiliated with or endorsed by Alcatel.
Compare Similar Models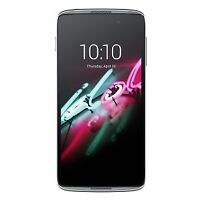 Alcatel OneTouch Idol 3
Operating System
Android 5.0.2 Lollipop
Screen Resolution
1080x1920/720x1280
Internal Storage
16 GB/8 GB
Chipset
Snapdragon 615/Snapdragon 410
Showing slide {CURRENT_SLIDE} of {TOTAL_SLIDES}
Alcatel Fierce XL

Operating System

Windows/Android 5.1.1 Lollipop

Screen Resolution

720x1280

Alcatel Idol 4S

Operating System

Windows/Android 6.0.1 Marshmallow

Screen Resolution

1080x1920 Windows/1440x2560 Android

Internal Storage

64 GB Windows/32 GB Android

Chipset

Snapdragon 820 Windows/Snapdragon 652 Android
Top 5 High ratings
Top 2 Low ratings
Great phone. A lot of value for the price.

Great phone. I already knew what to expect with the Idol 3. Just what I wanted: long battery life, (it did come with a charger), great camera, great sound (dual speakers) storage space, responsiveness, screen size all perfect for my needs.

Verified purchase: Yes

Budget phone with class.

This is a good budget phone. Big rotatable screen; thin and lightweight. Excellent front facing JBL speakers, in the top and bottom. Very little bloatware, much of which can be deleted. The processor is it's weak link, and is relatively slow. Looks like it's stuck on Android 6.0, which is too bad. Still, for a good price, definitely worth it.

Verified purchase: Yes

Awesome phone!

I wanted a new phone that had more storage space, a better camera and a good music player. I researched smartphones for about a month before deciding that the Alcatel Onetouch Idol 3 was the phone for me. I am already on the Cricket network, so I was extremely lucky to find a used one in such great shape, here on ebay. The phone has exceeded my expectations in every area. The 5.5" screen is great, all images are clear & have vivid colors. A 13 megapixel rear camera & 8 megapixel front camera, with loads of settings are fun to use & give great quality shots. The dual front facing speakers give the phone real stereo quality sound, enhanced with JBL audio, it makes all my music sound amazing. And the coolest, most unique feature is that the screen is fully reversible! I had never heard of, or seen this before, nor had anyone I know, so I didn't know what to expect. I was blown away! It doesn't matter if the phone is upside down, or right side up, it functions the same, either way. It really has to be seen to be believed... Alcatel really scored with this phone & they gained a new, loyal customer!

Verified purchase: Yes

Pleasantly surprised....i really like this phone

The phone looks very nice and it feels good in my hand. The back is slightly curved. The buttons are conveniently placed. ( not like my Lg ) although they're on opposite sides from my other phones. ( Samsung ) The screen feels nice under your finger and is very clear and bright the colors are vibrant. The Ram is adequate as is the internal memory ( you can add more if you wish ). The operation is faster and smoother than my Lg because there is no lag., Now for the not so good things. I don't think you can send a scheduled text without installing s separate application. The battery could have more capacity. The bezel around the screen should stick up above the glass to minimize scratching. The battery should be removable so that it can easily be replaced and to reboot the phone. It's profile could be smaller there is a lot of unused screen. Of course making it smaller would change the way it sits in your hand. Overall this phone is very nice in every way. It looks expensive but it's not. It is in my opinion a very good value. Well worth the money and defiantly worth looking at.

Verified purchase: Yes

good phone!

flawless phone - bad esn but i knew that. phone works perfect as a tablet. very smooth and responsive. I even use it as a GPS out hiking

Verified purchase: Yes