Посмотреть по параметру Цвет
Посмотреть по параметру Поколение
Отображается слайд {CURRENT_SLIDE} из {TOTAL_SLIDES} - Посмотреть по параметру Поколение
About iPod Classic
Showing slide {CURRENT_SLIDE} of {TOTAL_SLIDES}
Meet a musical Genius.

Say you're listening to a song you really like and want to hear other tracks that go great with it. With a few clicks, the Genius feature finds the songs in your library that go great together and makes a Genius playlist for you.

Click to enjoy.

Finding exactly what you want to watch or listen to is easy. Use the Click Wheel to browse by album art with Cover Flow or navigate your songs and videos by playlist, artist, album, genre, and more.

Hold everything.

iPod classic gives you 160 GB of storage capacity, good for up to 40,000 songs, 200 hours of video, 25,000 photos, or any combination. You get up to 36 hours of battery life, so you can keep on rocking for a long, long time.

Leave no tune behind.

With 160 GB of space, iPod classic means you can always have your entire music and movie library with you. Carry it from the living room to a party in the backyard.
eBay has provided more information about this product above and is not affiliated with or endorsed by Apple.
Price Trends
Apple iPod Classic - Price New and Used
New Price*
from $159 to $321
Used Price*
from $69 to $80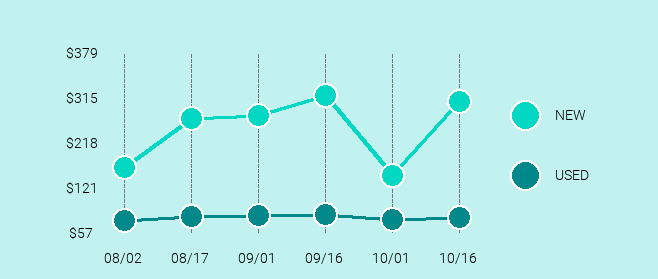 *The average sold price is calculated based on "Buy It Now" items sold within the 90 day period described above (excluding shipping and handling). Each interval represents a 15 day period. There is no guarantee that items will always be listed at a price within the provided range.
Compare Similar Models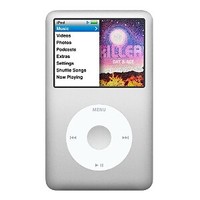 Apple iPod classic
Audio Formats
AAC, Protected AAC, MP3, MP3 VBR, Audible, Apple Lossless, AIFF, WAV
Frequency Response
20Hz to 20,000Hz
Display
LCD with LED Backlight
Screen Resolution
320 x 240
Music Playback Time
Up to 36 hours
Showing slide {CURRENT_SLIDE} of {TOTAL_SLIDES}
Top 5 High ratings
Top 5 Low ratings
Fantastic Solution!!!

I've waited a while before writing this review, because I wanted to put some serious use into the ipod to see how it would handle. I have an extensive library, so I was looking for a device to expand into as my phone didn't have adequate storage (it wads at the point where I had reformatted all my songs into a lower bitrate, I WAS SUFFERING) But after picking up this ipod, I was able to fit as much as I wanted at full settings across both my devices. It is my on-the-go player and is pretty snappy. It froze once, but after a soft reboot all was well and it played exactly as I hoped it would. Also, the battery lasts more than two days of regular use, bravo!, , ONE NOTE: If you use the 'Cover Flow' view when finding music, you may run into some latency issues, but this is common among all these devices and may happen just in instances of very large libraries. Personally, I listen by artist, and the display algorithm for rolling all the way through artists is way easier on the device since it doesn't need to load all the album art., , , Overall, 5/5! It did what I needed it to :)

Verified purchase: Yes

128 ssd ipod

I have owned a regular iPod for several years but was disappointed in the battery live and durability. I researched the "rebuilds" and was intrigued. This item, so far, has addressed all of the weaknesses of the original iPod and greatly improved on the original. After I figured out the item I wanted I then had to decide on the Seller, as this item is available from many different Sellers on eBay. Most of the Sellers are in China and there is a communication problem but this Seller was direct and did not waver when pressed on the design and components. I had problems getting straight or consistent answers from other Sellers but not with this one. I have had the item for a few weeks, I use it every day and so far it is great. Capacity is less than my original iPod (158G vs 160G) but it will be awhile before I get to the point that it makes a difference. I am keeping my old iPod as my home unit and it will be lovingly cared for and never be put into an unsafe environment again. I plan on purchasing a few more of the "Rebuilds" in the future. BTW, this item came from China to Hawaii quicker than many items I purchase from Sellers on the mainland USA. Great item, great Seller, very fast shipping, I will buy from this Seller in the future. Mahalo.

Verified purchase: Yes

Great buy for motorcycle use.

Gen 4 iPod is the last generation with the provision for a wired remote device to control the play/pause, volume and back/skip without touching the physical iPod. I've used one for years on my motorcycle. It's great for long distance riding with a pair of small earbuds or a pair of molded ear speakers. This Spring, my battery was dead again on it, so I ordered a new battery., , My Gen 4 doesn't hold all my songs, so I started looking. I found this great unit. It not only has massive storage, it has good sound and a better battery. Not only does it hold a lot of songs, the drive is solid state, so no moving parts and no skipping if you hit a bump., , I have one issue with it. The plug on the bottom is a little wonky. You have to be careful or it won't charge properly. I tried plugging it in to the supplied wall charger and it didn't work at first., , So, not completely blown away by this. Hopefully the plug contacts will clean themselves up a bit with some use and the unit will work as intended. This is a GREAT IDEA! Recycle/Reuse!

Verified purchase: Yes

Leary about electronics but happy to have purchased it!

I am very Leary about electronics because it takes a while to discover if all works as it should. In this case the disk was not completely wiped as asked so I had to determine if overlooked or if the person new how, or if the drive was bad. So after some investigating on the web with apple I was able to do an analysis on this drive. One thing one should ask about if purchasing is, was the drive formatted for Mac or PC. Knowing this would have saved me a lot of time. So I wiped and formatted the drive as Mac drive and prepared it for music. Then the next thing was to determine if all was in proper working order. Went through the steps to determine if all the buttons on the dial worked properly. The battery life seemed to hold it's charge and the unit worked well for a decent amount of time on that charge. I do't know Apple's time frame exactly but I believe close enough to Apple's statics in battery life. It did cut off songs but I will have to look more closely at the software set up. Sound is as expected on a unit like this. The iPod worked as it should and all functions appear to be in great working condition.

Verified purchase: Yes

Good buy, but pricey... should have bought earlier

I purchased this ipod to finally scratch the itch I have been having ever since I upgraded the sound system on my truck. I wanted to be able to listen to any / all of my music at all times and the only way to do this effectively was to get myself this little bugger and connect it to my stereo / dvd player. Why did apple ever stop making these? I will never know. Why didnt I buy one when they first came out? Lack of foresight. Nevertheless, the device is in good shape. The screen is vibrant and after formatting the hard drive (which I wholly recommend, even if you are using itunes to re-initialize the whole device later, everything is working fine. Sound through my vehicle speakers is great, and if later on I want to watch podcast videos, or any other content I so chose, Ill buy the video cable and replace the one i got now. I recommend this nugget to anyone who doesnt want to deal with cloud storage or blowing thru your data cap just listening to music. As an added bonus, you can show your photos on your car display screen from the ipod as well. Wireless bluetooth would have been the icing on the cake but that was too much to ask from apple then. As with all their devices, Apple future-proofs their market by making things obsolete with each generation. Control will never be obsolete in my book, however, and this device gives total control to a true music lover in spades.

Verified purchase: Yes