About iPod Mini
Showing slide {CURRENT_SLIDE} of {TOTAL_SLIDES}
Light technology.

Apple engineers squeezed all the best features of iPod into a case weighing just 112g and smaller than any cell phone.

Protect your tech.

iPod mini features an anodized aluminium case that resists stains and scratches.

Charge your batteries.

Like its (slightly) bigger brother, iPod mini gives you over 25 minutes of skip protection and lasts up to 8 hours on a single battery charge.

Cross compatability.

You can auto sync with Mac or Windows devices.
eBay has provided more information about this product above and is not affiliated with or endorsed by Apple.
Price Trends
Apple iPod Mini - Price Used
Used Price*
from $20 to $31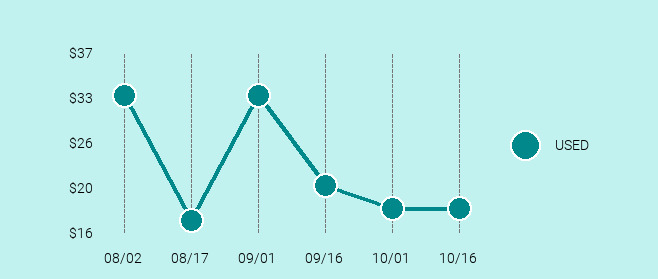 *The average sold price is calculated based on "Buy It Now" items sold within the 90 day period described above (excluding shipping and handling). Each interval represents a 15 day period. There is no guarantee that items will always be listed at a price within the provided range.
Compare Similar Models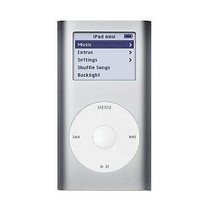 Apple iPod mini
Audio Formats
AAC, MP3, MP3 VBR, Audible, AIFF, Apple Lossless, WAV
Frequency Response
20Hz to 20,000Hz
Display
LCD with LED Backlight
Screen Resolution
138 x 110
Music Playback Time
Up to 18 hours
Showing slide {CURRENT_SLIDE} of {TOTAL_SLIDES}
Top 5 High ratings
Top 5 Low ratings
Looks good.

I've owned several iPod minis, both 4 and 6 GB versions. I bought this particular mini as a backup to my current mini since I know, from experience, that it's more economical to purchase another one as a replacement prior to the battery life of the one I'm currently using is unable to recharge anymore. I really haven't had an opportunity yet to see how well this newer mini's battery life will last, but from it's outward appearance, even though used, I think it's battery has plenty of rechargeable juice remaining. Time will tell.

Verified purchase: Yes

This was to replace my original IPod mini 2nd generation that no longer worked. The item works exactly as it should.

As good as my original IPod mini 2nd generation. Couldn't get the original one out of its aluminum case, so ordered this one. It is identical and works just as it did when it was new in 2005. Not sure how old the battery is but it seems to hold a good charge. It is a an Apple 30 pin item and requires the 30 pin charging cord. This can be played on an older IPod set of speakers or, it can be adapted to a blue tooth format by using a 30 pin receiver adapter that slips over original 30 pin connection on the IPod speakers. I use this for my workout and walking mp3 music player because it is so small and fits into one's pocket while walking. Must be used with Apple's I tunes to store and retrieve one's music.

Verified purchase: Yes

New Lease On Life 4 iPod Mini 1G

This iPod mini was professionally refurbished by the seller. The battery and storage capacity were upgraded. The iPod was reset to factory setting. Storage capacity increased to 16 gigabytes. The new battery will hold a charge for over 8 hours. It is very easy and simple to use. I plug in a pair of low tech panasonic rp-sp15 mini speakers. Yes, I held on to these after my walkman portable cd player was consigned to the recycling bin! This iPod mini is perfect for my old speakers!

Verified purchase: Yes

Almost like a new one

I got this to replace an old 2 GB Gen 1 iPod that was stolen out of my car. I thought for this price, even if it's junk it'll probably be better than the one I lost. I get it, and iTunes has to format it for Windows before I can use it. But then, it was like a brand new iPod. I've stored all my old music on it and still have tons of room for more. Now I can continue to get great sound with the 30-pin connectors in my cars. Thanks for such a quality piece!

Verified purchase: Yes

Still holds up in 2016, if you replace the MicroDrive with a CompactFlash card.

About 10 minutes after firing it up and giving the drive a clean bill of health (with a full scan), it started having trouble spinning up. Well, that's to be expected from a 4GB Hitachi MicroDrive from over 10 years ago. Replaced the drive with a 4GB CompactFlash card I had laying around, "restored" the iPod, and boom! Works like a dream., , Only down-side is that this older iPod doesn't support audio-over-USB as more recent iPods (and all iPhones) do. So it doesn't work with the stereo in my Nissan LEAF - just says "Check device". In the manual, it turns out that it's only compatible with iPod Video (5th gen) and up, iPod Nano (1st gen) and up, etc... but no iPod Mini. Ah well... so I picked up a 2GB Nano as well., , Gotta have my music podcasts. ;)

Verified purchase: Yes