About DJI Spark
Seize the moment.

Meet Spark, a mini drone that features all of DJI's signature technologies, featuring intelligent flight control options, a mechanical gimbal, and a camera with incredible image quality.

Quick launch.

With FaceAware, Spark lifts off from your hand by recognizing your face.1 It takes off and hovers in place within seconds of powering on.

Simple control.

Take amazing aerial photos using just hand gestures, without a remote controller or mobile device.

Create with ease.

Intelligent Flight Modes and intuitive controls help you create cinematic aerial videos with just a few taps.
eBay has provided more information about this product above and is not affiliated with or endorsed by DJI.
Price Trends
DJI Spark - Price New and Used
New Price*
from $228 to $558
Used Price*
from $269 to $359
*The average sold price is calculated based on "Buy It Now" items sold within the 90 day period described above (excluding shipping and handling). Each interval represents a 15 day period. There is no guarantee that items will always be listed at a price within the provided range.
Compare Similar Models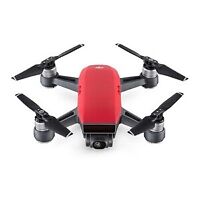 DJI Spark
Camera Type
Fixed Camera Drone
Image Stabilization
3-axis Gimbal
Maximum Video Bitrate
24 MBPs
Not everything works for everyone

I bought this combo package because, overall, it's a great package, adding lots of nice accessories for your new Spark drone. That being said, not all items work for every setup. 1. ULTIMAXX High Speed SD/SDHC/Micro SD Reader/CARD READER - A bit too fat. Works great but required me to unplug other USB devices to allow room for the reader to be plugged in. They really need to redesign this into a slimmer package. 2. ULTIMAXX Mavic Remote Controller Extender for Tablets/Phones: Works great for a tablet (if you can manage the extra weight of a 7- or 8-inch tablet), but doesn't close enough to hold a smartphone (My ZMax Pro has a 6-inch screen and was too small for the extender). 3. ULTIMAXX VR Goggles: Opposite of the extender. My smartphone was too big. 4. ULTIMAXX VR WIRELESS REMOTE: Can't get this to work properly. Set it up for Android, Did the Bluetooth connection which connected just fine, but none of the games (regular and 3D to use with the VR Goggles) would work with the remote. I could get one button to work which allowed the opening and closing of menu options within the apps, but nothing more. Maybe it doesn't like Android 6.1. I don't know. I only know that it doesn't work for me. Otherwise, the rest of the package works great. The landing pad startled me when I first opened it. I didn't know it was twist/folded so when I took it out and it sprang open it caught me by surprise. I also like the battery operated light cable that comes with it. Pretty cool if you decide to do some night flying. The sunshade is really nice and easy to install. It's held in place with elastic straps that slip over your smartphone before you attach it to the remote. A must have for daytime flights. There's also a 32GB Sandisk SD card included. My only comment on this: Since the Spark supports a 64GB SD Card, why not include one of that capacity instead of just a 32GB? Since the price difference between the two sizes is only a few dollars it doesn't make since to not include the larger card. Nice package overall, but you might want to check with the seller concerning what I've mentioned above to see if the currently included items all work with your setup or if they might have substitute items that they can exchange for you to handle your particular situation.

Verified purchase: Yes

YOU WON'T REGRET THIS PURCHASE

This deal is beyond sweet. If you are interested in or have been shopping for a "big boy" drone instead of a toy then this is the perfect opportunity to dive in.. I drooled at the idea of getting really any DJI drone for months.. never could find a used one that made sense and I just couldn't pull the trigger on a new one no matter how close I got to actually purchasing(one occasion I was at register to buy a brand new Mavic that was marked down from 999$ to 899$ and talked myself out of it). So when i found this deal on spark w/controller for less than just the spark alone was everywhere else I took the plunge.. and I must tell you about the "refurbished" thing.. this drone was new for all me or any of y'all out there could possibly know.. I mean it was boxed in original box with everything included like manuals, propellers, brand new charger wrapped in the plastic and all, the entire box was plastic wrapped like it would be new, the ONLY clue to it being refurbished was a half dollar size sticker on the back of box that simply said "refurbished" without that there is no other acknowledgment period.. this thing is a TON of fun to fly.. it's mindblowing how far and high oh and the speed in sport mode is just breath taking.. just get it.. any reviews below 4 stars(I can handle a fair amount of picky) any lower are from no one but haters..

Verified purchase: Yes

Fantastic DJI Spark but software should be better

Size of this drone is amazing and 1080p movie are also fantastic! Remote Controler is also amazing so all together is fantastic drone. I did bought it in November so price was 799$ which was bit more than it should be but now after black Friday and Christmas time price are the real value! What I don't find great is software or Inteligent Flight options. Dronie and rocket mode are not possible to do while you are shooting manual movie. So you need to make stop and shoot new movie and again problem is that shoots only 10 seconds which is sometimes not enough. Maybe I'm wrong but I still didn't find way to shood all that options longer than 10 seconds. Setting target is great option but above mention things should be better. Conclusion is that DJI should improve application (software) so new updates should be better and than this will be perfect drone!

Verified purchase: Yes

Wonderful design and great quality pictures and video

Quality in both design and construction. This is a fun drone to fly and performs surprisingly well. The camera control the DJI GO 4 APP provides is better than most at this price level. Holds altitude and position dead on even in moderate wind. The feature list is too long to mention but this little guy is up to any challenge. Be sure to use it with a Spark controller and take advantage of the shortcut buttons.

Verified purchase: Yes

Great starter drone for beginners. Fun and easy to fly. Awesome videos from camera.

Received item as expected. Been flying the drone for a week. Fun and easy drone to fly. Great video quality and footage. Must get the combo package which includes the remote control and extra battery. Cons: I wished the battery lasted more than 12 minutes. Overall - It's a great drone and I plan to purchase an extra battery (3rd) and a battery charger on the go for more flight time.

Verified purchase: Yes

Fun and full-featured

DJI spark is incredibly fun and full-featured. Little involved to get drone registered with DJI, app set up communicating with drone and controller, and to get firmware updated on drone and controller. But once it's set up, you're off flying. Great control, great flying distance and speed, and great pictures and videos. Flying time is shorter than advertised by DJI though. Getting about 12 minutes on a calm day.

Verified purchase: Yes

Excellent little drone

I've been flying drones for a few years and was a bit skeptical about the size of this drone and if it would be stable in wind. To my surprise, it is QUITE stable. Went to the beach to fly my mavic, and the spark did just as good of a job maintaining its position. Videos pretty good too.

Verified purchase: Yes

Spark Drone Review

The Spark Drone is a great little thing to start off with if your a new flyer read all the info you can plus watch all the YouTube videos how to pair the Drone controller plus all the updates so you can start using the device right away..

Verified purchase: Yes

Solid little drone

For a beginner, this drone is fantastic. Easy to use, excellent camera and more features than you could ask for. If your objective is to learn the ropes on droning and take some beautiful shots while also staying under $500. Then this is the puppy for you.

Verified purchase: Yes

Great Little Drone! (But it does not float.)

Love my DJI drones! They are head and shoulders above cheaper drones. Specifically they generally can stay in place, despite (light) winds, where are others will drift away. My only advise is to be careful flying around water... I've lost two into the sea already!

Verified purchase: Yes