Under Armour Offers Women's Sneakers for Just About Every Sport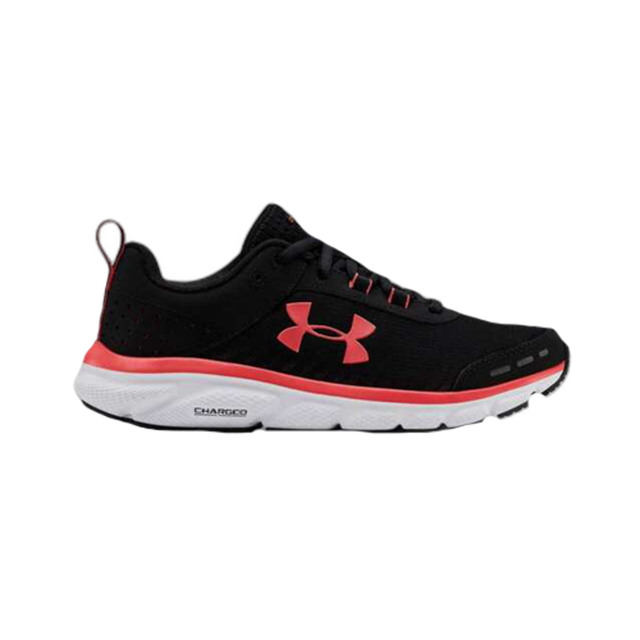 Under Armour has been such a big part of the sportswear lexicon for so long that many people are surprised to learn that the company has only been in the footwear industry since 2006 when it introduced its line of running cleats. The company introduced its performance trainer line in 2008 via its first Super Bowl commercial, launched its first running shoe in 2009, released its first smart shoe in 2016, and launched its new footwear cushioning system in 2018. Women have a great selection to choose from when looking for Under Armour athletic shoes for women.
What are the features of the
women's UA HOVR Phantom 2 Metallic running shoes?

This sneaker is one of Under Armour's track and running shoes, and it's also a smart shoe.

The shoe connects to the Under Armour smart tracker called UA MAPMYRUN via a chip located in the midsole that analyzes and breaks down running metrics so that you know which areas need improving upon and which are fine. Some of the metrics it can track include stride, distance, calories, elevation, pace, and elevation, information that is useful for serious athletes or people trying to get into shape. One key note about the system is that it works with your smartphone, but it will continue to work if you don't have your smartphone with you.
The shoe features UA HOVR tech that helps the shoe provide zero-gravity return, protecting the feet from damage from impact as you pound the pavement.

The upper is made out of an engineered flat-knit material that provides runners with support where its needed.
The outsole contains compression mesh energy web with HOVR foam that holds the impact while allowing the runner to get back the energy they put into each stride.
The midfoot panel is moulded, providing extra structure and a cozy, cushioned interior.
There's an external heel counter that helps provide extra stability and support.
The sock-like fit that comes from the SpeedForm 2.0 sockliner paired with the plush cushioning and flexible upper result in all-around comfort.
What features come with the women's UA Charged Breathe TR2 training shoes?

These are cross-training shoes for women that focus on protecting the feet from impact no matter which sport you're playing. They're ideal for people looking for women's tennis shoes or for people looking for any other type of athletic shoe.

The shoe absorbs most of the impact your experience no matter what kind of sport you're doing.
The breathable upper helps feet stay fresh and dry during even the most intense workouts, allowing you to put your all into it without feeling uncomfortable.
It comes with an external strap system that helps keep the shoe locked down without restricting movement, helping you feel secure during even the most intense activity and amount of movement.
The silhouette has been built to conform to the shape of a woman's foot, resulting in a sleek, streamlined fit that feels light yet secure.
The outsole is fully made out of rubber that's been stamped with a pressure-mapped traction pattern, helping provide great traction and grip while helping prevent slippage.
Women's UA HOVR Phantom 2 Metallic vs. Women's UA Project Rock 3 Camo
| | UA HOVR Phantom 2 Metallic | Women's UA Project Rock 3 Camo |
| --- | --- | --- |
| Sport | Running | Training |
| Smart Shoe | Yes | No |
| Available Colors | Multilple | Multiple |
What are some of the features of the women's UA Project Rock 3 Camo training shoes?

These women's training shoes are another option for anyone looking for options from Under Armour's smart shoe line. This line supports Team Rubicon, a non-profit organization that's run by veterans who have dedicated their lives to helping people recover from natural disasters, trauma, and other crises.

The shoes feature UA HOVR tech that provides that coveted zero-gravity feel that helps build energy return while reducing impact.
The compression mesh Energy Web and UA HOVR foam help provide extra cushioning and energy return.
The shoe has UA Tribase technology in the outsole that helps increase ground or floor contact while providing flexibility through natural motion and downwards flexibility.
The upper is breathable, durable, and flexible, helping keep your feet dry and comfortable while allowing you to bend them as much as possible as you work out or simply walk.
The shoe's special lacing design helps your foot feel comfortably secure and locked in even when you're moving around a lot.
The full rubber outsole provides traction, helping prevent slippage.
The external heel counter adds and extra layer of stability and support.
Content provided for informational purposes only. eBay is not affiliated with or endorsed by Under Armour.